By Jan Vítek
Prague Marathon, a sports art event that took place in the Czech capital, started on Sat, Oct 16, 2021 in the morning. We sketched for 24 hours straight, and changed locations every couple of hours. Representatives from seven countries took part in the marathon: 18 sketchers, two photographers, a social media expert, an assistant and two special guests, making it 24 participants in total.
We started in Café Obecní dům for breakfast at 8am. Then we did a sketchwalk through the center with fast 30-minute sketches. We had a wonderful afternoon session in the Residence of Turkish Ambassador Egemen Bağış who is a great lover of art. We sketched for two hours and spent one hour in a discussion. Then we went by tram to Café Platýz for dinner. Of course we drew during the tram trip. Sketching while riding was fun. From 8pm we recorded an amazing performance in Jazz Club Reduta.
The night was challenging. Around midnight we sketched quickly on the Legií Bridge. After that we moved to Cross Club. Around 3am only three people continued, and we went on a sketchwalk from the club to the city center. We stopped at Letenský Tunnel. After half an hour and at two degrees above zero we were frozen. We decided to order hot tea via Bolt, but I could not find any restaurant offering hot tea at 4am that would be delivered to the tunnel.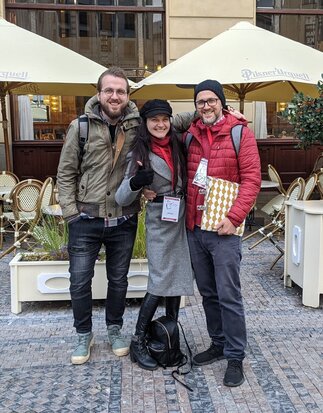 The three winners after 24 hours without sleep. From the left Adam Topór, Marta Rogalska and Jan Vítek
Luckily we found an open restaurant - Burrito Loco-- only a 20-minute walk away. Unfortunately there were no hot drinks nor hot food. But we were happy at least for cold food and a place where we were not freezing. Then we moved to Burger King near Jungmannovo náměstí. Finally hot tea and coffee 🙂 We made a couple sketches and after 7am we headed back to Obecní dům for another breakfast from 8am.
Three people did all 24 hours without sleeping: Adam Topór, Marta Rogalska, and Jan Vítek. The winners did not hesitate to share their opinions. Adam Topór, who represented Great Britain, commented: "I had experience from a previous marathon in Warsaw. Glad I could use it to plan my time and conserve energy for the whole marathon." Marta Rogalska, who participated in the marathon as a social media expert, thinks: "I met so many cool people, and I have seen a lot of great art, I had a wonderful time." And I represented Czech Republic: "I had a crisis around 3am, I was thinking of giving up. I didn't and in the end I was satisfied with my performance."
Which city will organize the next marathon event?
This article was also published in the Drawing Attention magazine - March 2022 issue.
Enjoy the amazing photos by Robert Štolba!
And some sketches from the marathon.