2020 Prague Sketch Fest Announcement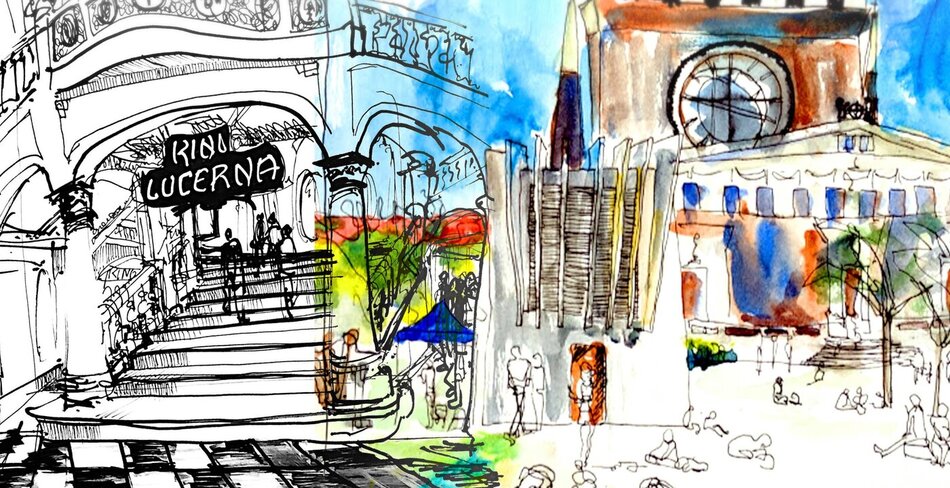 Do the cold, dark days of winter keep you from attending sketchwalks? We have got the perfect remedy:
Even more sketchwalks!
A marathon of 20 sketchwalks in 20 consecutive days in the year 2020 to be precise.
Urban Sketchers (USk) Prague is excited to announce our winter sketching festival called the "2020 Prague Sketch Fest." On each day from February 1st to February 20th, 2020, we will host a sketchwalk come snow, rain, or shine.
This festival will include urban sketching at Prague's landmark venues such as Old Town Square, Wenceslas Square, Charles Bridge, Prague Castle, and Vyšehrad, classic indoor locations such as the National Museum, Kavárna Obecní dům, Café Slavia, Žižkov TV Tower, MeetFactory, and Café Louvre, as well as exclusive access to places such as Podolí Waterworks (Podolská vodárna) and Břevnov Monastery Brewery (founded in 993, oldest brewery in the Czech Republic). Each sketchwalk will be followed by a social gathering where we will look at our collective sketchbooks, exchange tips and tricks, and discuss all things urban sketching.

We are inviting fellow sketchers from neighboring cities such as Berlin, Dresden, Pilsen, Bratislava, Vienna, Budapest, Warsaw, Regensburg (and everywhere else) to experience the most amazing sketching opportunities in Prague mixed with the exhilarating adventure of sketching in the winter. People of all ages and skills are welcome to participate in this thrilling winter sketching challenge, and attend as few or as many of the twenty sketching opportunities as they like.

We have started posting the daily sketchwalk schedule for the festival on Facebook and Meetup.
This festival's hashtag is #2020PragueSketchFest